Top 10 Walt Disney Quotes
…And why you should follow your dreams even if
you feel as small as a
mouse!
#10
"Why do we have to grow up? I know more adults who have the children's approach to life. They're people who don't give a hang what the Joneses do. You see them at Disneyland every time you go there. They are not afraid to be delighted with simple pleasures, and they have a degree of contentment with what life has brought – sometimes it isn't much, either."
#9
"I only hope that we don't lose sight of one thing – that it was all started by a mouse."
#8
"You can design and create, and build the most wonderful place in the world. But it takes people to make the dream a reality."
#7
"Disneyland will never be completed. It will continue to grow as long as there is imagination left in the world."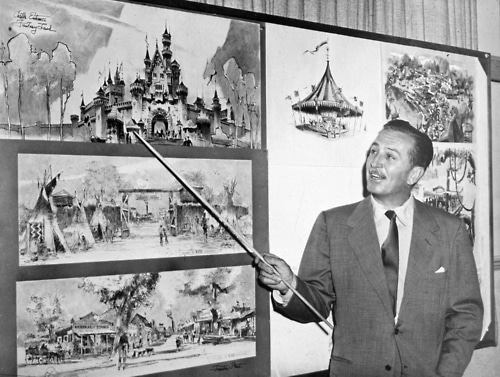 #6
"The more you like yourself, the less you are like anyone else, which makes you unique."
#5
"There is more treasure in books than in all the pirate's loot on Treasure Island."
#4
"We keep moving forward, opening new doors, and doing new things, because we're curious and curiosity keeps leading us down new paths."
#3
"When you believe in a thing, believe in it all the way, implicitly and unquestionable."
#2
"All the adversity I've had in my life, all my troubles and obstacles, have strengthened me… You may not realize it when it happens, but a kick in the teeth may be the best thing in the world for you."
#1
"What ever you do, do it well. Do it so well that when people see you do it they will want to come back and see you do it again and they will want to bring others and show them how well you do what you do."
———— ———— ———— ————
Keep the Momentum Going:
———— ———— ———— ————
Click here to read more quotes on 'Dreams!' >>
Click here to read more Walt Disney Quotes! >>
32 Responses to Top 10 Walt Disney Quotes
Hi, I'm Matt!
...The guy behind the scenes.
I started MoveMe Quotes in October of 2010 with the intention of creating a
beautiful
,
ad-free
website where the motivation had the priority -
not the ads
. Today, MoveMe Quotes welcomes well over
100,000 visitors/ month
and I remain true to my original intentions by keeping MMQ an ad-free site so that you may experience
the power of words
in a
distraction-free
environment. If you find inspiration here or find yourself moved by our resources, please consider making a donation to help keep MMQ alive and beautiful.
Thank you so much!